Learn the art of Public Speaking – an essential skill and competency in every workplace
Leadership Development for Organisations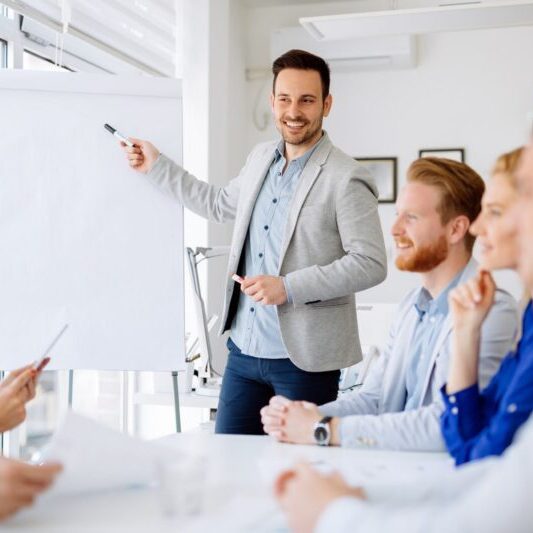 Presentation Skills Intensive
About the course
This Presentation Skills Intensive intervention aims to help your key employee handle and deal with the biggest fear that most employees experience in their work today – speaking in public.  The course understands their concerns and anxiety, and aims to give them the tools and techniques to help them develop public speaking / communication skills / presentation skills that will impress their Subordinates, Peers and Senior Management, and indeed existing / new customers and clients.  They will experience a new way of speaking and presenting through an intensive training intervention that will increase their assertiveness, confidence and enhance their knowledge and approach to speaking in public, presenting and in communicating.
Our intention for you (Aim & Objective)
By the end of this Presentation Skills Intensive intervention, the participant will have learned how to present / communicate professionally (and yet authentically) in 1 : 1, small or large groups and have developed speaking techniques that they can use in their workplace and indeed in their personal lives too.
What you will learn (Content)
The 'Contents' below (in no particular order and not exhaustive) will all be covered both directly and / or indirectly with the participant:
Knowledge of your products / services / speaking topic
Belief in your products / services / speaking topic
Presenters' and speakers' state / stance / mindset
Self-confidence, self-belief and assertiveness
Choosing your presentation / speaking medium
Preparing and designing the content and look of your presentation medium i.e., slides
Captivating introductions / Opening your speech / Closing your speech
Audience engagement and feedback
Metaphors
Personification
Using PowerPoint
Using a Flipchart
Using Pointer Cards
Managing notes / props
Satirs (gesturing)
Stage management (claiming your space)
Your speaking voice:
Pace
Volume
Articulation
Inflection
Power of Pausing
Designing and preparing sales pitch narrative
Delivering a sales pitch In-person and remotely
Handling nerves, stress and anxiousness before and during your speech delivery
Impromptu Speaking
Delivering your presentation
Breathing
Handling audience questions
Giving / receiving feedback
Venue management & logistics
What to wear
Self-evaluation
Home-play
What you will be able to do after the course (Outcome)
Volunteer to present, because speaking in public is a natural competency for you
Seek out speaking engagements
Prepare a speech at short notice
Look forward to speaking
Feel great before / during / after your speech
Schedule 
1 : 1
3 to 5 sessions of 1.5-2.5 hours each per week, over 3 to 5 weeks, completely private and confidential
On-going support, if required
Price