Learn how to speak with confidence – people love to be in the company of assertive people
Leadership Development for Organisations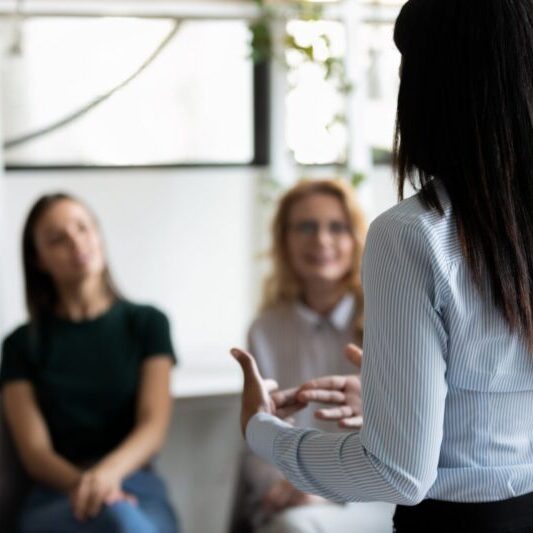 About the course
This Communication Mastery intervention aims to help your key employee communicate (visually, verbally and vocally) more professionally, ethically and appropriately in a business framework.  Talent Fusion understands their challenges in their daily communication tasks and the intervention has a focus on giving them tools and techniques to speak and write with clarity to their subordinates, peers, team leaders, managers and most importantly existing / new customers.  To communicate effectively, people need to adopt to specific situations with people, requiring a willingness to develop self-awareness and people skills throughout their job / career. Participants will experience a new way of speaking and writing that will increase their assertiveness, confidence, enhance their knowledge and approach in how they promote, speak, write about their products and services; where communication, no matter what type it is, is paramount to business success, growth and longevity.
Our intention for you (Aim & Objective)
By the end of this Communication Mastery intervention, the participant will have learned how to write and speak professionally in 1:1, in small groups and large groups (in person and remotely) and have developed techniques that they can specifically use in their place of work and indeed in their personal lives too.
What you will learn (Content)
The 'Contents' below (in no particular order and not exhaustive) will all be covered both directly and / or indirectly with the participant:
Reflecting on communication experiences
Being self-aware
Belief in your products / services
Subject knowledge
Why we do what we do 'v' what we do
Effective listening skills
Speaking state / stance
Speakers' mindset
Assertiveness skills
Building self-confidence
Report correspondence writing
E-mail correspondence writing
Your speaking voice
Improve workplace relationships
Networking skills
Handling nerves, stress and anxiousness before and during your speech delivery
Breathing
Learning styles
Captivating and impactful introductions and communication
Designing and preparing sales pitch narrative
Delivering a sales pitch In-person
Delivering a sales pitch remotely
Tailored selling / sales techniques (existing / new customers)
Interaction with customers
Develop better customer questioning skills
Handling customer questions
How to motivate and inspire people
Building instant rapport
Becoming an influential leader
Handling self-limiting beliefs
Negotiate effectively and efficiently
Requesting and giving feedback
How to say 'No'
What you will be able to do after the course (Outcome)
Be more assertive and more confident
Speak with impact, authority and clarity
Write professionally
Thrive in your career, where speaking is a natural competency for you
Be seen as 'the person to go to'
Schedule
1 : 1
3 to 5 sessions of 1.5-2.5 hours each per week, over 3 to 5 weeks, completely private and confidential
On-going support, if required
Price